For wedding videographers, most of your sales will probably come from local internet searches on Google. Therefore, it is key that when people Google "wedding videographer" for your region, your website comes up on the first page. It doesn't matter how you rank in Google's general listings. It's the local search rankings that matter because most of your customer pool comes from your region. The process of getting your website to show up on the first page is referred to as local SEO or Search Engine Optimization. If you did a search for "New York wedding videography", all the websites on the first page are there because they have optimized their site for those keywords.
One of the factors that Google uses to rank a website is keyword density, which means how often does a particular keyword phrase appear on each page of a website. If you are trying to rank for "New York wedding videography" you would want to place that keyword phrase and different variations of it on different pages throughout your website including your blog posts, your about us section, and etc. The guys over at Moz have a great tutorial on how to do on page optimization correctly. The problem is since a lot of people are trying to optimize for the same keyword phrases, it's very difficult to get to the first page of Google. So, in this tutorial I am going to walk you through how to find other less competitive keywords that brides are searching for on Google.
Google Keyword Planner
Google has a tool called Keyword Planner.This tool will tell you how many people search a particular keyword phrase per month. On Google, search keyword planner and then click on the link that says Google AdWords: Keyword Planner. You will need to make an AdWords account to use this tool.

Once, you are logged on, click search volume. Type in your region along with the phrase "wedding videography".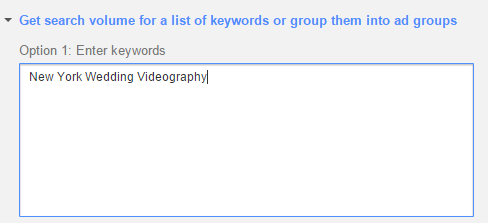 Click the button on bottom called get search volume. The next page will give you results for that keyword.You can see that 30 people searched this keyword phrase and the competition is high.

The level of competition is determined by how many people are optimizing their site for the same keywords. Google's keyword planner does have a feature that gives you keyword ideas, but it doesn't work as well as I would like. There are other free tools though that will provide us with a lot of similar keywords. In the next section, I am going to show you several tools on how find low competition keywords.
Google Chrome Incognito Mode
Over time, Google adjusts its results to fit your personality. So that we can get accurate results, let's change Google Chrome to incognito mode. Search "New York wedding videography' and scroll down. At the bottom are keyword suggestions.

Let's put them back into Keyword Planner and see what results we get.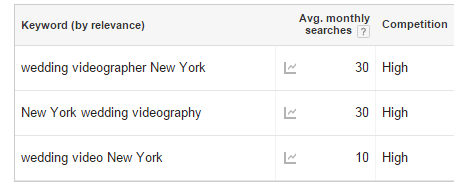 Unfortunately, all these keywords still have a high competition. Let's move on to the next tool.
Ubersuggest
After typing 'New York wedding videography" we get the following results. Let's take the relevant ones and put them into Keyword Planner.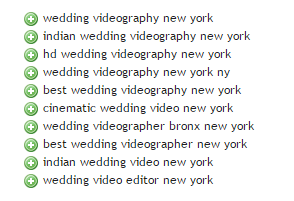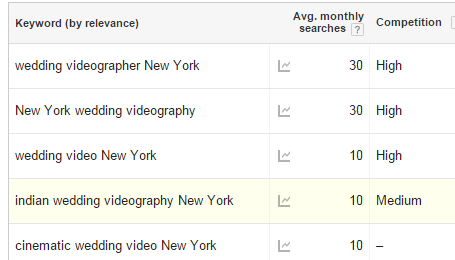 We've struck gold! "Indian wedding videography New York" has a medium competition and "cinematic wedding video New York" has none at all. No competition means that none or close to zero people are optimizing their site for this keyword phrase. So if you used those keywords for your local SEO strategy, you would most likely show up on the first page. For some reason, Google didn't show results for "New York wedding cinematographers". I have a hunch that if we tried a different variation of that keyword, we would get results. Let's try searching a different variation of it in our last tool.
Soovle
The last program we are going to use is Soovle. This tool starts creating longtail keywords as you type.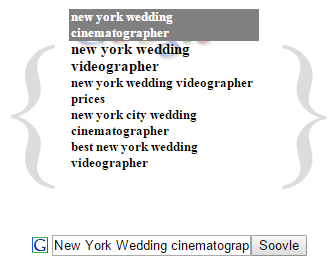 After trying different variations, I took my list and put it back into Google's keyword planner. Below are the results: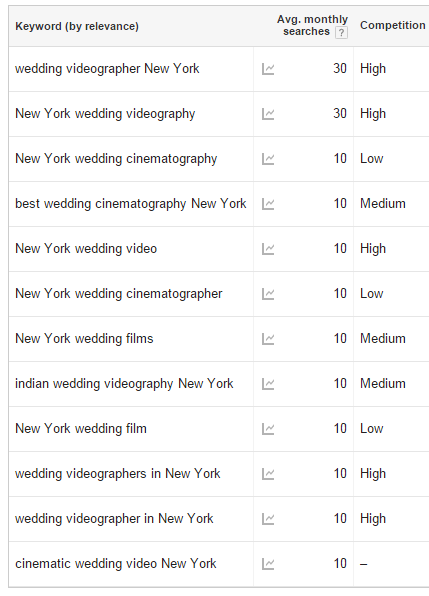 So if I lived in New York I would first start with the low and medium competition keywords. Like I said before, "cinematic wedding video New York" is the best to rank for local search engine optimization because no one is ranking for it. I hope that this tutorial was helpful. I challenge you to not just replaced your city with these keywords, but research and try to find some keyword phrases that are being searched. I have compiled a list of 150 low competitive keyword phrases for wedding videography. Insert your region or city into them and throw them into Google's keyword planner.
Even though keyword density plays into how Google determines which website goes on the first page, it will only take you so far. There are many other factors that Google takes into account. In future articles, I will discuss those other factors that will help improve your website's local SEO and get ranked to the first page of Google. Post in the comments below any tips that have helped you get ranked higher on Google.